Ah, Pizza e Birra's Oktobeerfeast 2019 is back again. Jakarta's annual beer, food, and music festival, Pizza e Birra brings all three elements together for 2 full days of excitement. Easily the best sports bar in Jakarta, this year's Oktobeerfeast that is also a celebration of 10 years of Pizza, Beer, Fun features a stellar lineup of the city's best artists, glasses and glasses of free-flow beer, and a wide variety of German food. Set for 2 days of excitement the classic Pizza e Birra way, one should not enter a festival of this caliber without some forethought and preparation. Getting the best out of your buck, ensure you have a good time, and making the most out of the two days, check out our tips for a full-proof preparation.
Come thirsty because we have Beer!
Why come thirsty you ask? Two words: unlimited beer! Pizza e Birra's Oktobeerfeast is well known for being big on food, music, and especially beer. With non-stop glasses of beer made available for everyone, your Oktobeerfeast experience is instantly better with free-flow beer all night long. We served 7,000 glasses last year, we hope you're up for the challenge to make it 10,000 glasses this time!
Come hungry. Leave Happy!
Contrary to popular belief, Pizza e Birra does in fact have a wide variety of delectables made available this Oktobeerfeast. With many choices of your favorite slices of pizza like Cheeesy, Mushy Mushroom, Pepperoni, Giant Pizza Pie and a special Oktobeerfeast menu that serves special German Sausages & Roasted Potatoes, this Oktobeerfeast ensures good food for a good time.
Get your game face on!
It is, after all, a festival. And what is a festival without games? This year, we've kicked it up a notch with even more exciting carnival games. We have classic beer pong, giant pizza-eating competition, hammer strike, beercules, beer-drinking competition, and for the first time ever, mechanical bull riding competition! Need we say anymore?
Memorize the lyrics of all your favorite songs!
The lineup this year at Oktobeerfeast 2019 is everything but basic. The exciting performances of both days from Efek Rumah Kaca, Elephant Kind, Kelompok Penerbang Roket, The Panturas, Sisitipsi, Barasuara, The Brandals, Dream Coterie, Feast, Kurosuke, and Sal Priadi, is made even better by the buzzing karaoke afterparty by RuruRadio Berkaraoke.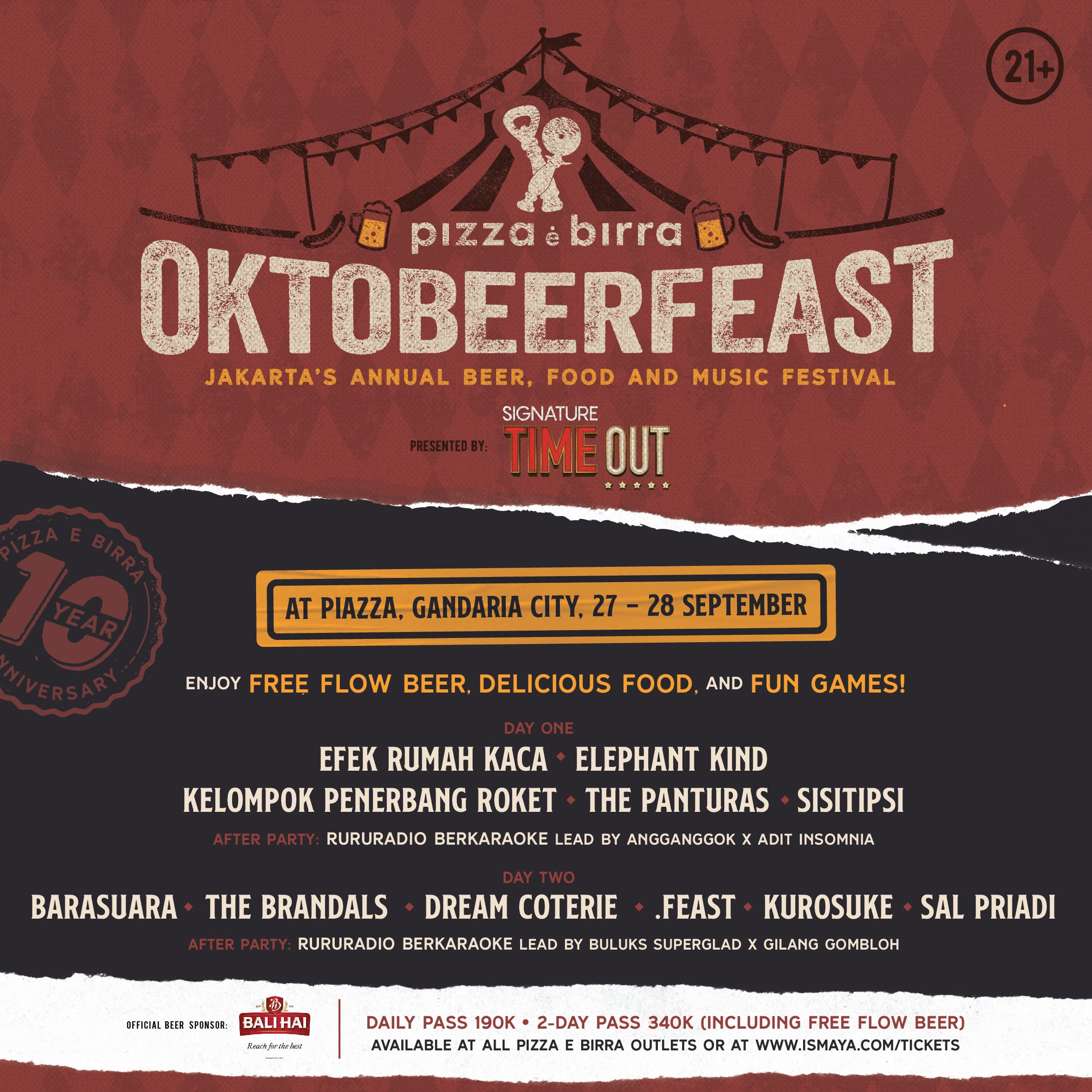 Now that we've listed down all the ways to prepare for this 5th edition of Oktobeerfeast 2019, there is really no reason why we won't see you at Piazza, Gandaria City on 27th and 28th October 2019!
Get the tickets at www.ismaya.com/tickets / Check out all the updates on our instagram: @pizzaebirra