December is here, and that means Christmas is near! We all want to celebrate the holidays with our loved ones, but are you ever worried about the best venue, food, or vibe for your ideal celebration? Luckily ISMAYA Group has something for everyone!
Casual Catch-Up With Friends
The holiday season is usually reserved for family by most, and that calls for quick catch ups with your close friends! Go to Tokyo Belly and Sushigroove for a casual meal, where you can also pick up a free Japanese Parfait and Mochi ice cream, respectively, to finish up your meal! For just a quick coffee catch-up, go to Djournal Coffee and try their delicious holiday Cups of Cheers drinks!
Christmas Date-Night
You and your significant other could just be yearning each other's company during this festive month and want to have a romantic dinner together. Luckily there are two romantic date spots with delicious Christmas menus: GIA's Buon Natale for a meal with award-winning architecture, or Osteria GIA's Natale Con I Tuoi for a more rustic meal. Pair any dish on the menu with wine, and you're golden!
Family Roast
The holiday season is conducive to family time for many! Treat your family members to the best roast in the centre of Jakarta at Publik Markette's Markette Christmas Feast. With specials such as the Pork Porchetta and Prime Ribs, your whole family will leave the meal with great memories and happy tummies.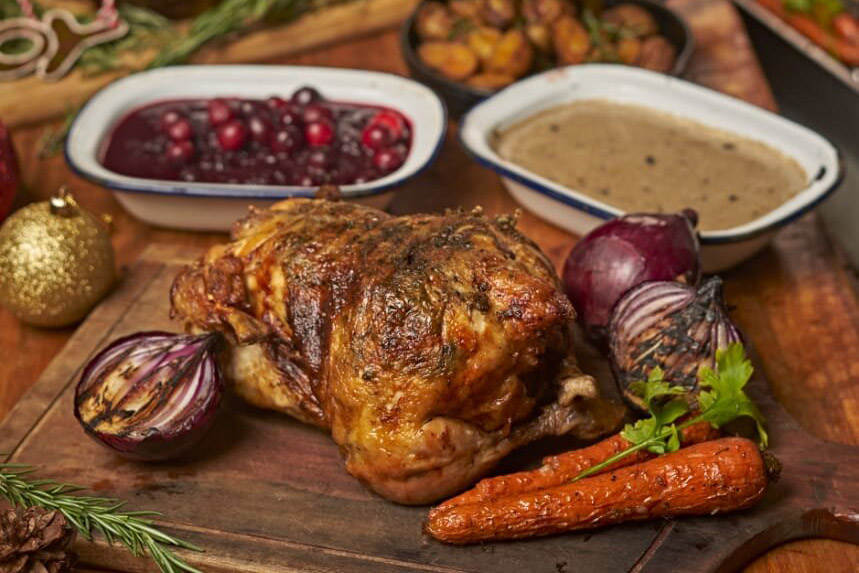 Festive Cocktails
'Tis the season for holiday parties and drinks! Come to Djournal House and try twists on classic cocktails with the Spiced Biscuit Martini or the Djournal Holiday Eggnog while listening to live music. For those that want the touch of foliage in the city with an especially Christmas feel, head over to Social Garden for their hot and cold mulled wines.
Scenic Fine Dining
An amazing, but unique way to spend Christmas is to have dinner with a view! With scenic sights of Jakarta, dine at SKYE Restaurant with their Christmas Wonderfeast with dishes such as Agnolotti Del Plin and While Mushroom Angus Tenderloin. If you happen to find yourself on the Island of the Gods, savour the white sandy shores of Nusa Dua at Manarai while dining on dishes created by their Michelin-trained Chef Stefan Poyet.